Little Bridge Cruises are regular Fred. Olsen cruises with bridge available on days at sea and a BMB Host on board.

The following will be included: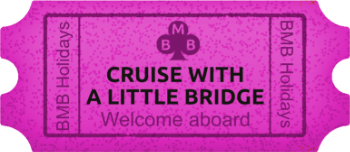 Bridge partners always found
Bridge sessions on days at sea
On a Little Bridge bridge cruise you can play bridge on days at sea. A BMB Host is on board to arrange games and you will find that a pleasant atmosphere develops. We always have a variety of single players and find partners for everybody who needs one. Non-players are welcome - there is plenty to do on board.